Weeknight Spaghetti and Beef Meatballs (Extra Lean Ground Beef)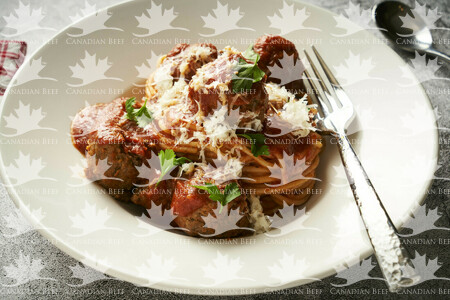 File information
File type
Options

Original file

2.2 MB, 7477 × 4987 pixels (37.29 MP)

63.3 cm × 42.2 cm @ 300 PPI

JPG
Request
Download
Contributed by
Suzanne Raymond
Metadata
Notes / Caption
This recipe was adapted for the Gateway program. It was part of Phase #4 recipe development. It features Extra Lean Ground Beef.
R00312

Other name for this recipe - (Weeknight Spaghetti and Meatballs)

Simplified for weeknight cooking, with fewer steps and ingredients, these meatballs are flavoured with jarred basil pesto and Parmesan cheese and are poached in the simmering sauce for the most tender, juicy meatballs and flavourful sauce. Use store-bought marinara and pesto sauces for simple pantry cooking.
Search for similar resources